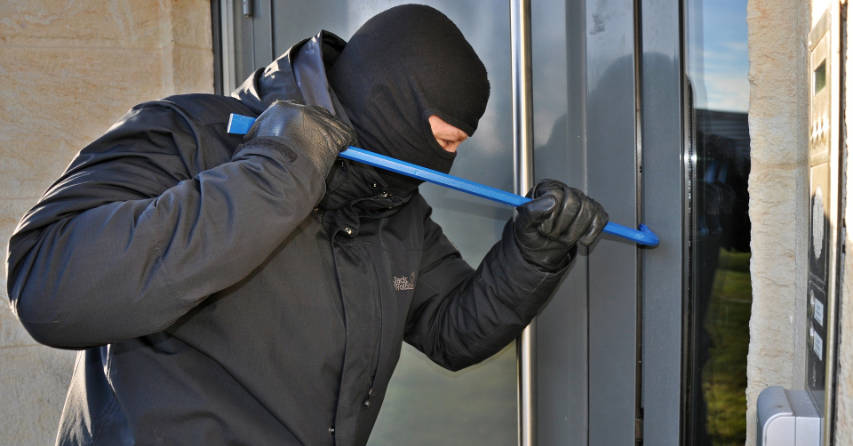 By: Stephanie Ferreiro | Economical Insurance
January 20, 2020
Sometimes, despite your best efforts to keep your home secure, a break-in just happens. Learn some common signs that an intruder may have entered your home and find out what you should do next.
Signs your home may have been broken into
Some burglars are pretty good at covering their tracks, meaning they can enter and exit your home without being detected until you realize something is missing. Others aren't so smooth and leave plenty of evidence. Here are some common signs that your home may have been broken into:
Your door is unlocked or open when you return home, but you're sure you locked it when you left the house
There are new scratches, dents, or other signs of tampering on your locks or doorframes
Some of your belongings are missing or have been moved from their usual locations
One of your windows is open or broken, but it wasn't like that when you left the house
There are unusual marks on your floors or carpets.
What to do if you believe your home has been broken into
If you return home and see signs that an unwelcome guest may have been inside your house, follow these steps:
Stay calm. It might be easier said than done…but try your best to stay calm and remember that you won't be left alone to deal with this yourself — your home insurance has your back. Keeping your cool now could be crucial to getting things back in order nice and quickly.
Don't go inside. If you believe your home has been broken into, don't go inside. Not only could it be dangerous (if the burglar is still inside or has caused significant damage, for example), but you could accidentally destroy important evidence. Stay somewhere safe until you take the next step…
Call 911. Tell the operator that your home has been broken into, and then wait for an officer to come and investigate. Keep a copy of the police report for your insurance company.
Make a list of items that are missing. Once the police have confirmed it's safe to re-enter your home, take a walk around and make a list of anything that is missing or damaged — and take pictures, too. If possible, write a detailed description of each item, including the make and model number, where and when you purchased it, and how much you paid for it. If you have a copy of your receipt, keep that on hand as well.
Contact us. Tell your Account Manager what happened in as much detail as possible and provide a list of items that have been stolen. We will guide you through the next steps of the claims process and help coordinate repairs to your home, as well as the recovery or replacement of your stolen belongings. If it's outside of business hours or you can't reach your broker, call your insurer's emergency line to start the claims process.
Stay somewhere safe. If you can't stay at home during the investigation or while repairs are being made, your home insurance could cover additional living expenses like meals and a hotel stay. Be sure to ask us what's covered before you make your arrangements.
Does home insurance cover break-ins?
Most home insurance policies cover break-ins. Your home insurance could not only help replace your stolen belongings, but it could also cover any necessary repairs to your home, provide a safe place to stay while repairs are being completed, and even pay rewards for tips that lead to the arrest of the person who broke into your home. Home insurance has you covered when you need it most, and we will be there to guide you every step of the way.
To make sure you have the coverage you need to protect you in the event of a break-in, reach out to Newman Insurance today.
The content in this article is for information purposes only and is not intended to be relied upon as professional or expert advice.
This article was originally posted on 
economical.com