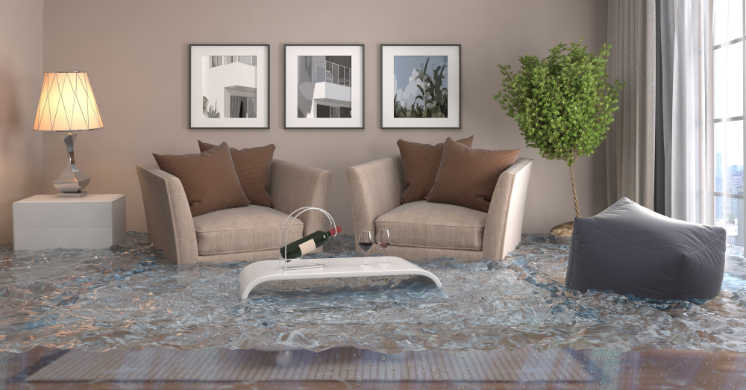 By: Whitley Newman Insurance
June 8, 2018
Communities across Canada are experiencing more extreme weather conditions than ever before and seeing a rise in damaging wind and rain-related storms. According to Environment Canada, our climate is gradually getting warmer and wetter, and we're receiving 20 extra days of rain every year. Severe weather events that used to occur every 40 years are now expected ever six years.
Water entering your home can cause extensive damage to the structure and finishes, while also creating unhealthy living conditions with the growth of mold. The costs to repair or replace the damage can be very expensive.
Your Homeowners policy covers most water-related claims, provided they occur suddenly and accidentally, such as a burst pipe. Damage from continuous or repeated water seepage is not covered as this is considered maintenance that should have been addressed when it was first noticed. Your policy also contains exclusions which limit, restrict ore reduce certain types of water coverage.
Sewer Backup and Sump Pump Coverage
Sewage that has backed up into your home from a sewer or septic system is not covered under a Homeowners policy and it can it can cause extensive damage, especially in a finished basement as the flooring, walls, finishes and furniture will all likely need replacing.
Sump pump failure is also not covered and if you live in a low-lying or wet area, you likely rely on a sump pump to discharge water from your basement or crawl space.
Fortunately, an optional sewer backup endorsement is available for purchase to ensure that sewer or sump pump-related claims are covered.
Overland Water Coverage
According to Aviva Canada, over the past 30 years, severe weather claims have increased more than 13 fold in Canada and major floods represent almost 40% of all the natural disasters ever recorded. Until 2015, Canadians were at the mercy of Mother Nature as insurance coverage wasn't available to protect their homes from rising water and floods, and they relied solely on the federal government's disaster financial assistance program for compensation if their homes were damaged.
In 2015, this all changed when several insurance companies introduced overland water protection for the first time. Today, most companies offer some form of optional overland water protection to covers losses or damage due to lake and river overflows, heavy rains, spring run-offs or rapid snow melt. While most homeowners will have access to this coverage, it may be limited or not available in some regions that are prone to high levels of water or in areas where there's a potential risk of high water.
Action is Your Best Defense
Don't wait for water claims to happen. There are many ways you can protect your home from water and reduce the risk of damage. According to an Insurance Bureau of Canada poll, Canadian homeowners have taken the following actions:
56% have cleared leaves from their eaves troughs and other areas around the house.
44% have ensured proper lot grading so that water drains away from the home.
40% have ensured that all downspouts extend at least six feet from the basement wall.
35% have checked their sidewalks, patios and driveways to ensure they have not settled inwards, causing water to run towards the house.
27% have checked their window water wells to ensure there is no accumulated water.
22% have installed a backflow valve in their basement sewer line.
22% have informed themselves and household members on how to shut off electricity to areas that might be affected by flooding.
Review your homeowners policy today to ensure you have all the coverages you need, and if you have any questions, contact us to discuss.