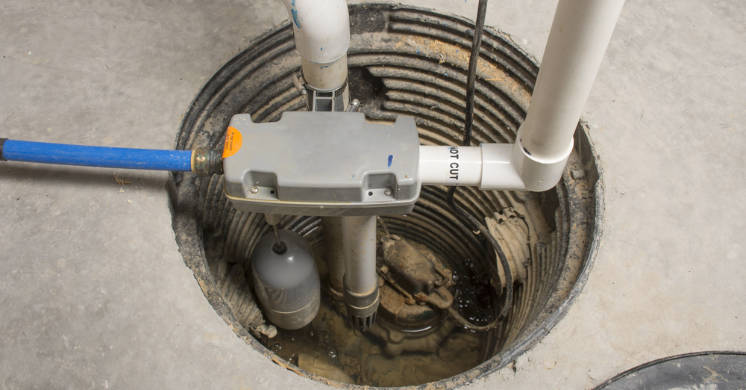 By: Whitley Newman Insurance
March 7, 2019
If groundhog Wiarton Willie's prediction of an early spring is correct this year, milder temperatures should be just around the corner. Now is the time to ensure your sump pump is in top working order and be able to handle the excess water that accompanies spring. Here's what you can do.
Inspect and Clean
A sump pump while sitting idle or used sparingly during the winter months, can accumulate sediment which can hamper its operation. Unplug the sump pump, drain the water and carefully clean all of its parts including the filter system. Finally, inspect the pit and remove any debris from inside.
Next, place the sump pump back into the pit and plug it back in. The electrical outlet should have a Ground Fault Circuit Interrupter (GFCI) receptacle to eliminate electrical shocks. Test the receptacle by pushing the 'test" button to see if it trips and then reset it.
Test your Sump Pump
Pour enough water into the pit to raise the float and activate the sump pump. If nothing happens after a few seconds, locate the float and manually lift it to see if the pump activates. If it doesn't, you will need to remove the sump pump again from the pit and clean it more thoroughly. If it's activating when the pit is almost full, consult the user's manual and adjust the float accordingly.
Recommendations
A high water alarm is a great investment to warn you if your sump pump fails by activating an alarm if a sensor detects water. Most home improvement stores will stock high water alarms and they are easy to install.
It's wise to test your sump pump monthly – especially during the wetter months – as it's better to detect issues during a test than during a heavy rainstorm.
If you hear your sump pump emitting a continuous hum, unplug it immediately and give it a thorough cleaning as it's likely clogged with debris or the float is stuck and the motor will eventually burn out.
No sump pump will last forever and their life span is anywhere between 5 to 15 years. If your sump pump is not performing well, replace it as soon as you can.