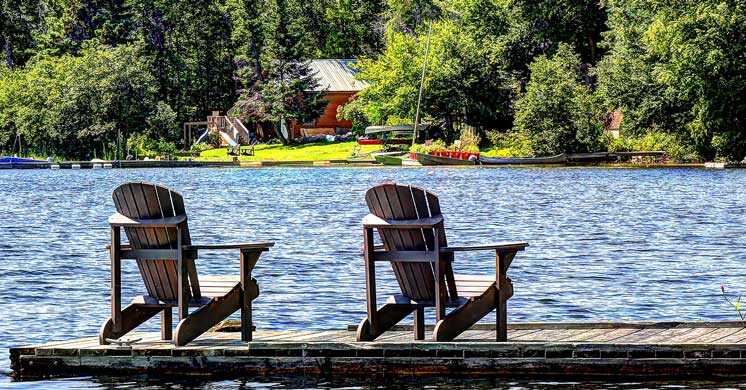 By: Whitley Newman Insurance
April 10, 2018
Despite the fact that cool wintry temperatures are holding on tight, many of us are counting the days until we can hit the road and head for the cottage. There is truly no better Canadian summer experience than spending time on a dock at one of the thousands of beautiful lakes this country has to offer. Victoria Day may be the unofficial launch of cottage season, but – if time and weather permit – try to get a jump on opening tasks so you don't have to spend the long weekend doing anything other than enjoying what cottage life has to offer.
Cottage openings can be a drag, but it helps to have your to-do list prepared and supplies ready ahead of time. The first thing to do is check in with your electricity and any other utility service provider to reconnect ahead of your arrival. Load your car with opening day essentials (tools for hooking up water/septic and repairing anything that may not have had a good winter; cleaning supplies; and batteries for smoke detectors and flashlights) and grab your keys.
Essential Tasks to Get Your Cottage Ready
Opening the cottage doors for the first time in months can be an adventure. Critters of all kinds seeking shelter won't appreciate your presence or eviction orders. Be prepared. Most cottage owners agree that if a few mouse droppings are the only things that you encounter on opening day, it's a sure sign that the rest of the summer will be awesome.
Once you've checked on the critter situation, switch on the main breaker but leave the water pump and water heater breakers off until after hook up. Check for any burning odors and go through the cottage to check on lights and anything else that relies on power to operate.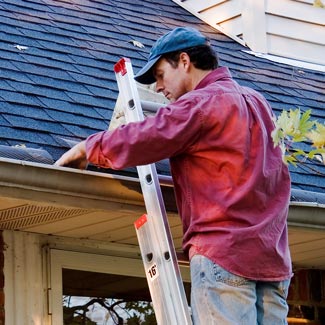 The next few tips to a smooth opening will also help ensure that your cottage season isn't consumed by more than a few routine tasks:
Cut down and clear away any overhanging branches that could land on your roof or power lines
Check the roof for any missing shingles or holes
Remove any empty hornet or wasp nests to prevent re-occupation
Clean out eavestroughs
Open up windows and check for any broken glass or torn screens
Check for loose dock/deck boards, rails, steps, and dock/deck anchors
Plug any holes in foundation or walls to prevent any future pest intrusions
Wipe down and disinfect any areas that animal droppings were found
If the winter was kind and you've managed to get through the first part of the task list, then it's time to sit down on your favourite dock chair and take a break before the real 'fun' begins.
Time's up – it's water and septic time.
Getting Your Cottage Water Supply Running in Spring
Milder weather is always a must when hooking up the water supply. There's nothing worse than chilly temperatures and uncooperative water pumps. If your pump draws from the lake, it's a good idea to inspect the lines before submerging them in the water. And now is the best time to replace the pump's filter so you don't have to worry about it later in the season.
Open a cold water tap in the cottage, prime the pump, open the valves, switch on the breaker, and hope for the best. (If this works on the first attempt, be sure to capture it on video and post. You will be a legend!)
When the water starts flowing out of the first tap, test the others to remove excess air from the system. Let the water flow for a few minutes and then close all the taps to test for leaks. (The pump will continue to run if there are leaks.)
Getting the hot water running isn't nearly as onerous a task, but before you fill the hot water tank, check to make sure it is off (and the breaker too, to be sure) and all the taps are closed. Connect the hose to the drainage valve and run it outside. Turn on a hot water tap, close the drainage valve, fill the tank through cold water intake, and wait for the water to appear (sign that tank is full). Switch on the breaker (and tank) and then check for leaks.
Prepare Your Cottage Septic System for Vacation Season
The septic system can be nasty, but it's usually nastier to close than open. It's recommended to have the septic tank or outhouse pumped before the season begins; whether you choose to do that in the fall or spring is entirely up to you. Before testing the system, it's wise to inspect the accompanying hoses and pipes for any cracks caused by extreme cold temperatures or rodents.
Final steps – replace furnace filter (if you have a furnace) and change the batteries in your smoke and carbon monoxide detectors.
Now that's all done, grab a cold one and enjoy – you deserve it. But, before you can totally relax this cottage season, check with your Newman Insurance representative to update your cottage policy so it is valid and active, includes sufficient liability coverage, and everything (outbuildings, docks, and new 'toys' included) is covered.
Seasonal properties are unique; they are considered a higher risk because normally no one is in residence year round to provide upkeep or make repairs in a timely fashion. Added to that, certain policies may not be sufficient if you rent out the cottage. If you have an older policy, we can make sure that today's costs to rebuild or repair are reflected.
Newman Insurance is very familiar with all the details of cottages, trailer lots and any other types of vacation properties. We will work with you to find a comprehensive policy that meets your needs and suits your budget.