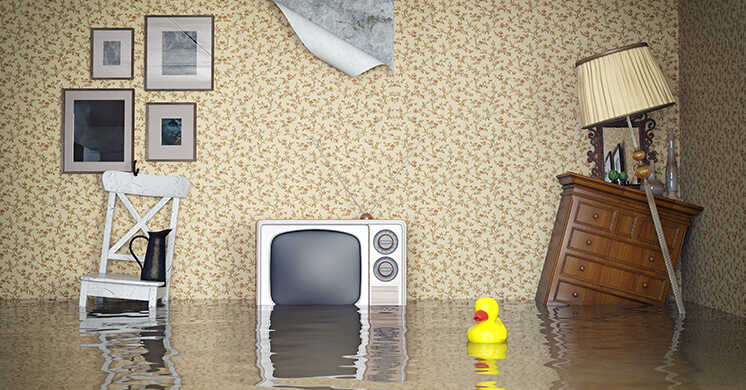 By: Whitley Newman Insurance
March 24, 2016
Most Canadians assume that their homeowners insurance covers all types of water damage including flood. When a pipe bursts or a toilet overflows, in just a matter of minutes the damage can be extensive and costly to repair. These types of losses are covered because the source of the problem comes from inside your home or cottage. But, as we all know, high rainfalls and quick snowmelts can cause water to flow in unwanted directions.
Excess freshwater and wastewater need to go somewhere and, unfortunately, the flow can make its way to our basements. It has escaped the banks of lakes, rivers, and reservoirs, and when the soil can't absorb it and runoff and drainage measures can't keep up, 'there's trouble in river city'.
Flooding Costs Canadians
According to the Insurance Bureau of Canada, insured losses from catastrophic events from 2009 to 2014 were close to or above $1 billion each year and most of this was due to water damage. It reports that, "Flooding and related sewer backup damage is costly for homeowners, businesses, municipalities and insurance companies. In fact, in 2013 insurers paid out a record-high $3.2 billion to policy holders."
Until recently, insurance coverage for what's called 'overland flooding' has not been available; Canadians were forced to turn to the federal and provincial Disaster Financial Assistance programs for financial aid. Most times, those funds have not covered all the repair costs so property owners have been responsible for paying thousands of dollars out of their own pockets.
Overland Flood Insurance Coverage is Now Available
There's been a shift in the insurance industry since 2013's massive floods in Ontario and Alberta caused over $5-billion in damages. In order to meet the demand of policy owners who want flood coverage, Newman Insurance is pleased to announce that it now offers this type of protection through three of its insurance companies: Aviva, Gore Mutual, and Intact.
The enhanced coverage can be included in Aviva's Water Protection Package on existing policies if there is sewer back-up protection in place. The protection is automatically bundled as Intact's Enhanced Water Damage Package or WaterEscape Plus on all Gore Mutual policies that qualify.
"While property owners take preventative measures to protect their homes and offices from excess outside water flows, there are times when you simply can't compete with the weather," explains President, Calvin Newman. "We are reaching out to our clients to make them aware that this comprehensive coverage is available and highly recommended."
Newman also points out that many people don't understand their property policies and the limits on coverage on flooding from indoor compared to outdoor sources. He estimates that 20 percent of the population would not qualify for excess overland water coverage because their homes or cottages are built on a flood plain, but the remaining 80 percent does. This type of protection is critical to insure losses arising from the accumulation or runoff of surface waters.
Preparedness Can Minimize Your Losses
As well, when flooding represents 40 percent of natural disasters, everyone needs to be proactive when it comes to protecting their property. Newman Insurance is here to ensure homeowners are covered by unavoidable natural occurrences but there are steps to take to avoid or minimize claims:
Make sure someone (a friend or family member) checks on your property daily if you're away during the heating season.
If you don't have a sump pump – get one! And a battery (or generator) back-up.
Have a back-flow prevention valve installed to prevent sewage back-up.
If storing valuables and keepsakes in the basement, place them in water-tight containers and place valuable items on racks and off the floor.
Make sure your eaves troughs are always clear and that water spouts direct water to either a rain barrel or far away from your house.