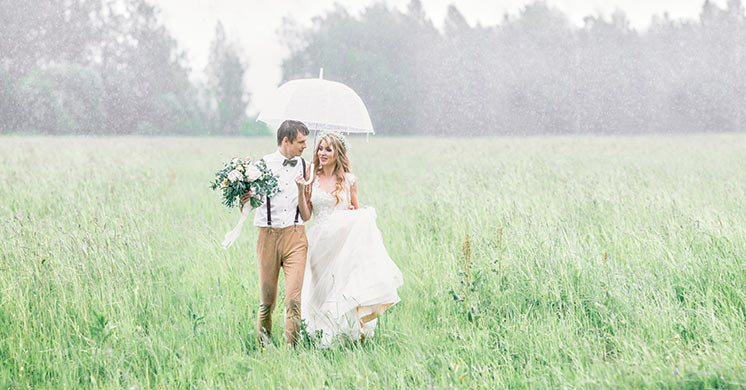 By: Whitley Newman Insurance
February 16, 2017
Whether it's your own wedding or that of your child, there are a lot of decisions to make. For many people it's the biggest day of their lives. It can also be one of the most expensive, not to mention stressful. A lot can happen to upset your wedding plans, and fortunately, there's an insurance product to cover you.
What is Wedding Insurance?
Essentially, wedding insurance is a policy to protect you financially from potential losses resulting from circumstances and events outside your control. An example might be having to cancel or rearrange your event if key members of the wedding party were unable to attend because of an accident, illness or a bereavement.
What will Wedding Insurance cover?
There are a variety of situations which could impact your event going forward. You can insure yourself against losses or for reimbursement of deposits in the event of risks, such as:
Extreme Weather: In Canada, weather happens. You can cover yourself against costs arising from rescheduling the wedding if a bride, groom, relatives essential to the wedding, or even the majority of the guests are unable to reach the ceremony or reception site due to weather.
Illness or Injury: Wedding insurance can also include coverage for change of plans due to injuries or sickness to either the bride or groom, along with anyone integral to the wedding.
Venue: You don't expect fires, electrical outages or business closures at your reception hall. But, sometimes they happen. Wedding insurance can cover costs for unavoidable cancellation due to inaccessibility or damage.
Liability: As trends change, some couples are exercising greater choice when it comes to venues. Depending on where you're holding your rehearsal dinner, ceremony, reception and gift opening, you may need to provide your own general liability coverage including host liquor liability.
Vendors: You're depending on other people to make your special day memorable. If your caterer or officiant are unable to deliver, what then? Your wedding insurance policy can cover you against cancellation or postponement of your wedding.
Attire and Other Items: There are a lot of moving parts to a wedding including physical items that can be damaged. Wedding insurance can cover you against loss or damage to wedding stationery (invitations, RSVP cards, menus, etc.), the wedding cake and flowers, rings, wedding presents and even bridal attire.
Employment or Military Transfers: We live in a mobile society. Sometimes promotions, transfers, and even military deployments can happen on short notice. Wedding insurance can cover you for a cancellation for any unforeseen posting overseas of the bride or groom.
Honeymoons: Unexpected circumstances can affect more than big day itself. Wedding insurance will reimburse you for pre-paid, non-refundable travel costs for the honeymoon if your wedding is cancelled.
What doesn't Wedding Insurance cover?
Of course, there are always exclusions. The biggest, as you would expect, are changes of heart from nervous grooms with cold feet (or even runaway brides). This is not something you can insure against. Cancellations due to pre-existing medical conditions may also fall outside your coverage. You should follow up with your insurance agent for full details.
Why should you consider Wedding Insurance?
Apart from minor glitches and annoyances, most weddings occur without a problem. But consider this: a 2015 Wedding Bells magazine survey reported the average expected cost of a wedding (including honeymoon) at $30,717. Additionally, 1 in 4 weddings occurring between November and April are destination weddings. In fact 14% of all Canadian weddings will take place abroad. Knowing this, wouldn't you want to protect your investment for your special day from unforeseen risks?
However much you are spending on your wedding, there are different coverage packages available. This makes crossing wedding insurance off your wedding to-do checklist easy.