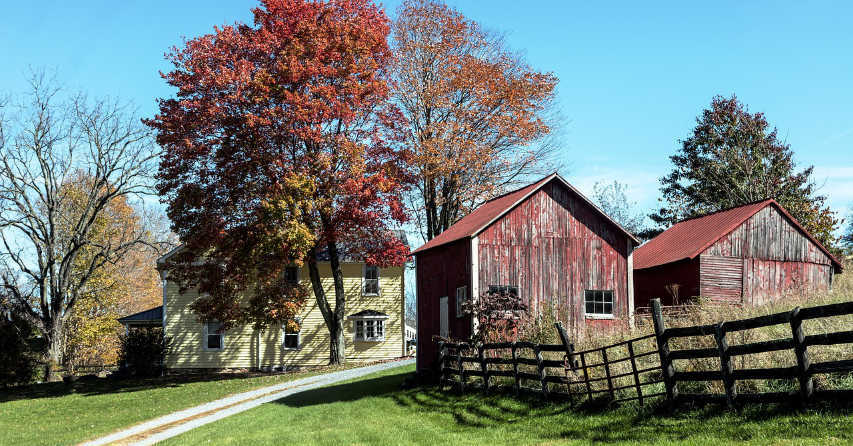 By: Stephanie Ferreiro | Economical Insurance
September 20, 2019
If you're in the market for a new home, you might be considering buying one that isn't actually new. Older houses often come with character and quality that's tough to duplicate, and they typically boast more land and square-footage than newer builds. However, older homes are also more likely to contain outdated materials and patchwork repairs done by previous owners. As a result, you might end up having to fix a lot of things after you move in, which can really add up. Here are some things to keep in mind as you shop around:
Make sure your realtor is familiar with older homes. While most seasoned real estate agents will likely have experience with a variety of properties, some realtors specialize in specific things (like selling condos or working with first-time buyers, for example). If you're looking to purchase an older home, it's a good idea to work with a realtor who has experience with older homes, as they'll be better equipped to help you understand any potential issues. They should also be able to help you accurately negotiate the costs for any repair work needed — just make sure they attend the home inspection so they can hear the results firsthand.
Find out if the electrical system has been updated. We use a lot more electricity today than people did decades ago, and electrical systems in older homes weren't built to keep up with our dishwashers, central air units, and other energy-sucking appliances. Knob-and-tube wiring, aluminum wiring, and 60-amp electrical systems, often found in older homes, tend to be considered more risky than newer systems because they can overheat and increase your chances of an electrical fire. To save on home insurance (and avoid a pricey upgrade in the future), consider looking for a home that has been updated to include an electrical system with at least 100 amps and modern wiring.
Ask if there's a sump pump and backwater valve. Many older homes weren't built with the modern features used to prevent flooding and sewer backups in homes built today. If the house doesn't already have a working sump pump and backwater valve (or if it has older systems that may no longer be reliable), you may want to consider adding these things after you move in. Keep that possible expense in mind as you move forward.
Check for outdated, dangerous materials like asbestos and lead paint. Both of these materials were used in building for many years, but they were banned after it was discovered that they are health hazards. A home inspector should be able to point out potential asbestos, but it'll need to be tested by a professional to make sure. Lead paint is a little tougher to spot, but can also be detected by a professional. Both asbestos and lead paint can be pretty pricey to remove, so it's a good idea to consider removal costs before you move into a home where they're present.
Look for signs of deterioration in the foundation. As a home gets older, the concrete foundation may start to deteriorate, which can lead to cracks in the internal and external walls. Some cracks might be normal and safe, but an inspector should be able to tell you if there are any that could potentially lead to problems.
Make sure the sill plate is in good shape. The sill plate is the first bit of wood that connects your home to its foundation. Over time, the sill plate can rot if it becomes damaged by water, which can make it more prone to insects, plant growth, and other issues. A damaged sill may show signs like cracking or buckling outer walls, or spongy or dipping floors inside. You won't always be able to see if the sill is damaged at first glance, but it's a good idea to take a look just in case you spot a sign that it might be.
Inspect the roof. Before you buy any home (but especially an older one) be sure to have the roof inspected to ensure it's in tip-top shape. Generally speaking, a thorough roof inspection should be part of a standard home inspection, and it should check for things like moss, damaged eaves troughs, missing shingles, or patches of mismatched shingles. If you can get access to the attic, you should also check for:
Light coming through from outside — this is likely a good indication that moisture and pests may be getting in, too
Dark patches or leaks in the ceiling — this is an indication that moisture is getting in, which can lead to mold and other issues
Sagging in the ceiling — this can be caused by structural damage or moisture, and it's an obvious sign that you'll likely need a new roof to avoid a collapse
Find out if the house has an official heritage designation. While heritage homes have a lot to offer (like great character, history, and strong bones), it's also worth noting that an official heritage designation may limit you in some ways when it comes to renovations and upgrades. Depending on the rules laid out in the designation documents, there may be certain parts of the home you aren't allowed to alter — and you may also have to agree to apply to your local government before making any changes. Find out if the home is a designated heritage site so you can make sure you're okay with the rules before you sign on the dotted line.
When you're shopping for a new home — or in this case, a new old home —we can help you look at your insurance options so you know what to expect before you close the sale.
The content in this article is for information purposes only and is not intended to be relied upon as professional or expert advice.
This article was originally posted on 
economical.com