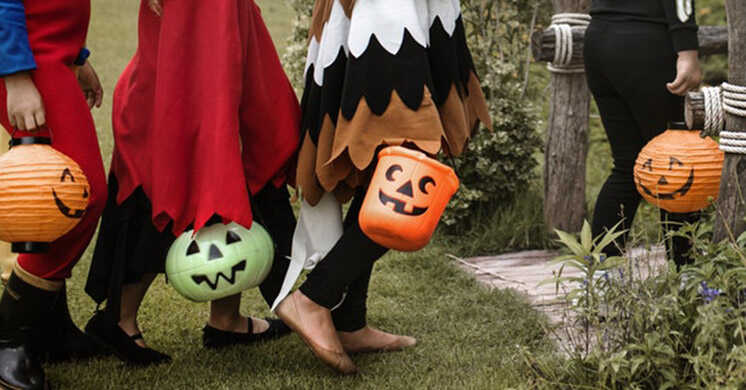 By: Stephanie Ferreiro | Economical Insurance
October 24, 2018
Yes, it's that time of year again — when little goblins, ghosts, and ghouls get decked out and tear through the neighbourhood on a hunt for sweet treats. There's nothing quite like the look of delight on your kids' faces when they sort through their goodies at the end of the night — not to mention the look of sheer horror when they realize you've been helping them "sort" their candy collection, one mini Mars bar at a time.
Before you get wrapped up in the excitement (and your mummy costume), consider these tips to make sure your Halloween night doesn't end in a real fright.
Planning Costumes for the Little Ones
Halloween wouldn't be Halloween without a little healthy costume competition. While being voted "best dressed" may seem like the most important thing to your kids, don't skip these simple steps to keep their costumes safe:
To avoid trips and falls, choose costumes that fit well and don't drag on the ground
Consider face paint instead of masks — while masks may make for fun and easy costumes, they can make it tricky to see things like tripping hazards and nearby cars
Stick a strip of reflective tape on each sleeve if the must-have getup is tough to spot in the dark (or consider going for a lighter-coloured costume)
Staying Safe on your Trick-or-Treating Trek
Before heading out on Halloween night, consider holding a family meeting to discuss your game plan for the evening, and make sure everybody knows the rules. For an extra boost of safety, keep these tips in mind:
Choose an easy-to-spot candy tote, such as a white pillowcase or reflective grocery bag
Make sure your little ones know that it's never okay to go inside a stranger's house without you
Try to avoid streets without sidewalks (and if there isn't a sidewalk, be sure to walk carefully along the side of the road facing traffic)
Keep the kids from snacking along the way, inspect their treats upon returning home, and throw away any opened packages, choking hazards, or potential allergens
And while this one may seem like a no-brainer, it's worth repeating: Only approach houses that have their outdoor lights turned on — if your neighbour's lights are out, it usually means they're not home or they aren't celebrating Halloween
Handing Out Candy at Home
If you're the lucky one who gets to stay home and hand out candy, be sure to prepare your yard for trick-or-treaters by ticking these things off your to-do list:
Turn on your outdoor lights and be sure to replace any burnt out bulbs
Rake your lawn and sweep away any wet leaves and twigs from your walkway
Take a careful walk from the sidewalk to your front door and make sure there's nothing that could trip up tiny feet along the way (not only will this prevent injuries, but it could also prevent the possibility of a liability claim)
If you have candles in your expertly-carved jack-o'-lanterns, don't leave them unattended, make sure they're out of reach from children and dogs, and keep them away from wooden surfaces or flammable items like patio furniture
There's plenty more you can do to keep your family out of harm's way on All Hallows' Eve. Be sure to discuss safety with your kids before leaving the house, plan your route, and come up with a strategy in case you get separated on the road to Candy Land. And most importantly, have a spook-tacular time!
The content in this article is for information purposes only and is not intended to be relied upon as professional or expert advice.
This article was originally posted on 
economical.com