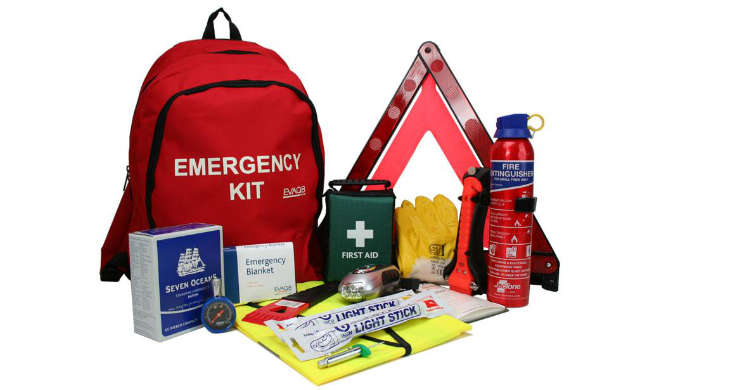 By: Stephanie Ferreiro | Economical Insurance
November 22, 2018
Canadian weather can be unpredictable, especially in the winter — and it can really throw you for a loop when you're out on the road. Even when you've done your part by installing a set of quality winter tires and driving with extra care in the winter months, a snow-covered street can have a mind of its own. Stay safe and warm by keeping these 10 items in your car all season long:
No less than half a tank of gas. Always check your gas meter before pulling out of the driveway, and if your tank is nearing half-empty, fill it up as soon as you can. If you have to pull over and sit for a while to wait out a whiteout (or if you're driving in an unfamiliar area and can't find a gas station), the last thing you want to worry about is hitting empty and getting stranded in the cold.
An extra bottle of de-icing windshield washer fluid. Have you ever tried to clean your windshield on a particularly stormy day, only to find that you were out of washer fluid? Driving with an obstructed view isn't safe, so always keep an extra bottle of winter-appropriate windshield washer liquid on hand to keep you seeing clearly. Transport Canada recommends buying something in the -40° range.
A bag of road salt, sand, or kitty litter. Not only can storing a heavy bag of salt, sand, or non-clumping kitty litter in the trunk add some weight to your car's back end (giving you more traction as you drive), but it can also be sprinkled under spinning tires to get your car out of a slippery snowbank.
An ice scraper and snow brush. It's hard to keep your eyes on the road with a build-up of snow and ice on your windows. An ice scraper and snow brush are standard accessories you won't want to be without.
Weather-appropriate clothes and kicks. It's easy to forget about proper winter attire when you only have a short walk from the car to the office. While your little leather loafers may be fine for a quick jaunt, they might not perform so well when you're trying to push your snowed-in car out of the parking lot at the end of the day. If you must put fashion before function, keep a pair of warm boots in the back seat that you can put on in a pinch. And don't forget your gloves, toque, and parka! There's no doubt you'll want your warm winter gear if your car breaks down and takes the heat along with it.
A fully charged cell phone (or an in-car phone charger). We all know that using your phone while you're driving is a no-no, but if your car slides into a ditch and you need to call for help, a full battery will be your best friend.
Food and water. If you're stranded in a winter storm, you'll want to have some high-energy, non-perishable food on hand, like protein-packed snack bars or trail mix. While a frozen bottle of water left in the car overnight won't be of much help, try to remember to bring a fresh bottle with you each time you hit the road.
A set of jumper cables. Car battery problems increase in the winter. Keep a set of jumper cables on hand for when you need a little boost.
A flashlight with extra batteries. Sometimes you need to shine a little light on the situation without wearing down your car's battery — or when the battery is dead. Staying inside your vehicle and shining a bright flashlight out the window can draw attention to you when you need it most.
Last, but definitely not least: a warm blanket.
The content in this article is for information purposes only and is not intended to be relied upon as professional or expert advice.
This article was originally posted on 
economical.com