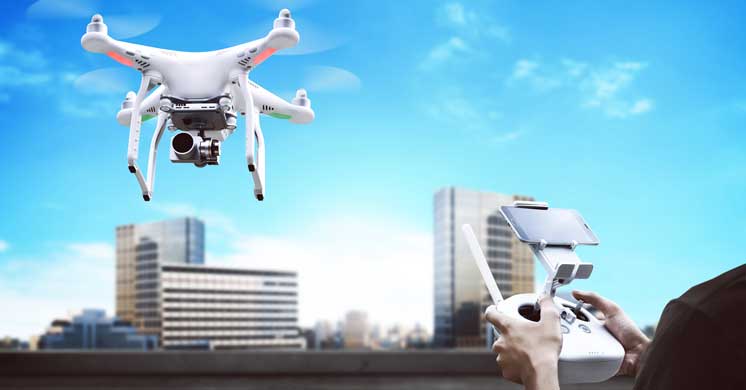 By: Whitley Newman Insurance
July 19, 2017
Canadian Laws Define Recreational Versus Non-Recreational Use
Whether you fly an unmanned aerial vehicle (UAV) for business or pleasure, Transport Canada has changed the rules of the 'game of drones'. Not only are the restrictions more airtight, they clearly draw that line in the sand between commercial and recreational use. Essentially, if you are generating any income from your drone, using it for business or research purposes, and/or it weighs more than 35-kilograms, you need a Special Flight Operations Certificate (SFOC) and a minimum of $100,000 in liability insurance.
Advances in drone technology over the past several years have led to a dramatic drop in prices and a surge in demand. According to research firm Gartner, 2.2 million drones were sold worldwide in 2016 (an increase of 60% from 2015) generating over $4.5-billion in sales. The popularity of drones is expected to continue to skyrocket as new applications are realized in commercial, research, government, humanitarian and recreation sectors.
As more and more drones fill the skies, Transport Canada has stepped in several times since 2013 with progressively stricter regulations to better control the country's airspace and everyone's rights to safety and privacy. Most recently, an Interim Order (No. 8 Respecting the Use of Model Aircraft) was issued on June 16, 2017 that applies to recreational drone use.
Insurance Requirements for Recreational Drones
If you fly a drone that weighs between 250-grams and 35-kilograms, it must be clearly marked with your name and contact information. It can only be flown during the day and not in clouds, must remain in a user's sights at all times, and never interfere with first responders. It can't be flown higher than 90-metres above the ground; within 30-metres of vehicles, vessels and the public; within 5.5-kilometres from aerodromes (airport, runways, etc.); within 1.8-kilometres of heliports; or within 9-kilometres of a natural hazard or disaster area.
These are not recommendations; violations of any of these restrictions are punishable by fines of up to $3,000. These regulations will continue to evolve and will no doubt become more restrictive. It's also a good idea to check for 'No Drone Zone' signage, which can be posted by airports, parks and municipalities to identify unsafe or illegal areas to fly drones.
Recreational drone users do not require insurance coverage. The same can't be said for non-recreational drone operators.
The Fun of Flying
While any operator will admit that flying a drone is fun, Transport Canada uses the term 'fun of flying' to define whether an aircraft is classified as a model aircraft (recreational drone) or an unmanned air vehicle (non-recreational drone). This is further defined by the aircraft weight; any drone that weighs more than 35-kilograms is considered a non-recreational drone. "If you are flying for anything other than for fun, we consider that you are flying for work or research and that you are flying a UAV (non-recreational drone)." (Transport Canada)
Transport Canada cites various types of work that may be using a UAV: survey, agriculture, inspections, academic research, first responders; and aerial photography and videography (including for real estate). "Flying a UAV for payment or any other benefit or gain is also considered flying for work/non-recreational purposes."
Tractica, a market intelligence firm, states that worldwide revenue of commercial drones from hardware and services reached an estimated $587 million in 2016 with an expected market value of $12.6-billion by the end of 2025. It expands on the Transport Canada usage list to include mapping, aerial assessments, prospecting, data collection, disaster relief and delivery. Even insurance companies are using drones for claim settlement purposes. The possibilities for commercial drone usage in the years ahead are nearly endless.
Insurance for Commercial Drones in Canada
All UAV operators need to be certified. Applying for a Special Flight Operations Certificate from Transport Canada is free, but can be onerous. The application process can take weeks, but without a SFOC, individuals can be fined up to $5,000 and corporations can face $25,000 in penalties. If the requirements of SFOCs are not followed, those fines range from $3,000 to $15,000.
"You need drone insurance, at least two people on your team, you still need to keep 100 feet away from adjacent properties and this assumes that you've been through a ground school training program and can prove you're knowledgeable about the many formal aviation rules that govern commercial drone operations. Want what's known as a Standing SFOC (the ability to fly without submitting an application for each flight)? You'll need to prove you've got a great safety track record — something Transport Canada alone gets to decide, vaguely saying 'your eligibility depends on various factors'."
– Simon Cohen, mobilesyrup, March 2017
Transport Canada requires a minimum of $100,000 in liability insurance to qualify for a SFOC, but $500,000 to $1,000,000 is highly recommended for commercial usage to cover damages that could potentially arise from a serious incident caused by a UAV.
Talk to Newman About Commercial Drone Insurance
Your Newman Insurance representative can work with you to ensure that you have the most suitable coverage for your UAV. It's important to note that most current commercial general liability insurance policies exclude losses due to the use of aircraft, which is why Newman offers drone-specific insurance. Talk to us to see how our comprehensive policies can be tailored to your company's specific use and operation of UAVs.