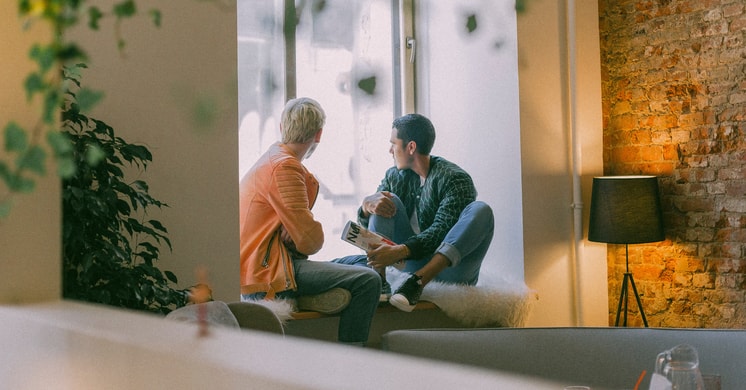 By: Whitley Newman Insurance
April 5, 2019
John and Nancy are saving to purchase their first home and believe they will have enough saved for a down payment next year. In the meantime, they rent a three bedroom home that's conveniently located close to their two offices.
On one particular work day, John and Nancy left their offices at the end of the work day and headed home with Nancy arriving first. When she opened the front door, she heard a noise she couldn't identify so she followed the sound into their living room. She let out a loud gasp as water was raining down from a large hole in the ceiling. Nancy immediately rushed upstairs and headed straight for the bathroom to see the source of the water: the cold water line under the sink had burst. Immediately she shut off the valve and the stream of water stopped.
At this time, John had arrived home and Nancy met him at the door to alert him to what had occurred. Together they scanned the living room and noticed their area carpet and all of their furniture was completely saturated with water. Their electronics, including their television, sound system and two laptop computers, were also wet and possibly damaged. Due to the large amount of water, they determined the water line had split not long after they left for work and the dry walled ceiling gave way shortly afterwards.
The couple immediately contacted their landlord and he contacted his insurance company to report a claim. A contractor was sent out to inspect the damage. John and Nancy were soon notified they needed to vacate the home for approximately three months as the contractor feared there would soon be mold throughout the room.
They needed a place to stay and decided their best option was to rent a small suite at a local hotel. The next day, they rented a moving van, gathered up what they needed and headed off to the hotel. Once they settled in, they soon discovered their two laptops wouldn't start up and were replaced at a cost of $4,000.
The renovations were completed ahead of schedule and after two months, John and Nancy returned to their home. The ceiling was repaired, the walls were freshly painted and there were new hardwood floors. They noticed that their furniture had been stacked and pushed to one side of the living room. Upon closer inspection, they could see that everything was badly stained and smelled badly so it all had to go. Fortunately, their television and sound system had survived.
When they priced out the new furniture which included a couch, two chairs, three tables and an area carpet, they couldn't believe how much the items would cost to replace – about $6,000. They also pulled out the receipt from the hotel and it totaled $3,900. Now depressed, they couldn't bring themselves to add up their restaurant receipts. The total cost including the furniture, hotel stay, a truck rental and restaurant receipts was $14,550. Like many Canadians, John and Nancy had decided not to purchase tenant insurance. According to Stats Canada, one-third of all Canadians rent their home and only half purchase tenants insurance.
Reasons Why Renters Don't Buy Tenant Insurance
There are many reasons why tenants don't purchase insurance including the following that are often heard:
I'm covered by my Landlord's Policy
Many tenants mistakenly believed they are covered by their landlord's insurance policy however their policy is intended to insure the building and protect the landlord from liability claims. It offers no coverage to tenants.
It's Not My Building, Why Do I Need Coverage?
Although it's true a tenant doesn't own the building where they reside, they do own personal property that needs to be insured and they also need protection from liability claims. A person could trip and fall while visiting the property or a tenant could unintentionally cause damage to the building or to another unit within the building.
I Can't Afford It
Tenant insurance is actually one of the least expensive insurance products to purchase, costing as little as $25.00 per month. When combined with automobile insurance, the cost is even less.
I Don't Own Enough to Worry About It
We don't realize how much we actually own until we start adding up the cost to replace it. We all own furniture, clothing, electronics and personal possessions. Could we afford to replace all of it if something were to happen?
If Tom and Nancy had Tenant Insurance
If Tom and Nancy had purchased tenant insurance, they would be in a much better position. All of their property that was damaged would have been replaced with brand new items including their furniture, the carpet and the two laptop computers. They would have also been reimbursed for the motel stay, their restaurant meals and their moving expenses under the Additional Living Expenses section of their policy.
Rather than spending just a few hundred dollars per year for insurance, they took a risk to save some money. Unfortunately, their home purchase is now much further from their sights.