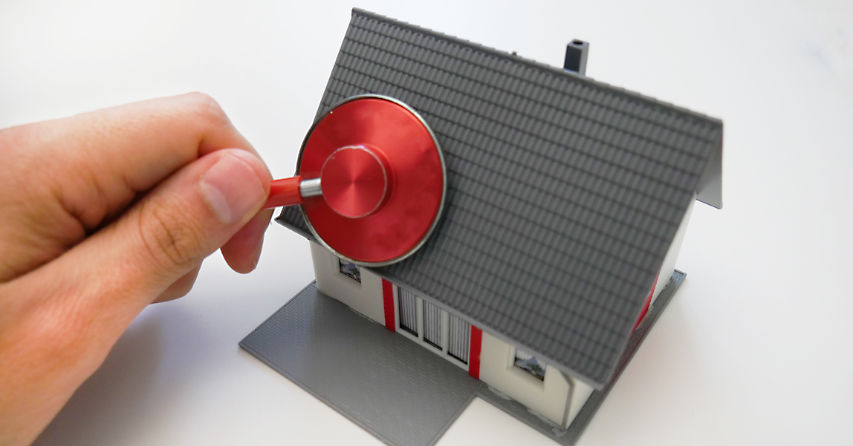 By: Annette Hynes | Economical Insurance
March 3, 2022
Whether you just bought a new home and you're shopping for home insurance, or you just received your renewal notice in the mail, you may be wondering how home insurance companies determine the amount you'll have to pay for coverage. Let us break it down for you.
What factors are included in home insurance premium calculations?
When calculating your home insurance premium, your insurer will consider a variety of factors to estimate how likely you are to make a claim and how much that claim will cost. Here are some of the most common factors a home insurance company may consider when calculating your premium:
‍The location of your home. Your address can have a big impact on the cost of your home   insurance. Insurance companies use your postal code to identify the type and frequency of claims made in the area to determine how likely you are to make a similar claim. For example, if you live in an area where flooding often occurs, your insurance could cost more than it might if you lived in an area where flooding occurs less frequently.‍
The age of your home. As your home ages, there is an increased risk of issues like faulty pipes, older wiring, leaky roofs, and cracked foundations, which could increase the likelihood that you'll have to make a claim for damage caused by water or fire. As a result, owners of newer homes often pay lower premiums, and premiums tend to increase as homes age
‍The type of heating system in your home. Homes with oil heating typically cost more to insure than homes with electric heat or gas furnaces, as oil tank leaks can damage your property and the surrounding environment. If you heat your home with a woodstove which can increase your chances of having a house fire, your premium will also likely be higher.‍
The type of wiring in your home. Your electrical system affects the risk of fire in your home and as a result, the cost of your home insurance. If your home has older wiring or has fuses instead of breakers, your premium will likely be higher.
‍The type of basement in your home. Many homes today have finished basements that are used for extra living space, at-home gyms, media rooms, offices, and more. Not only do finished basements tend to contain more furniture and valuables than unfinished basements, but they also cost more to repair because of the types of building materials used. A claim for damage to a finished basement and its contents would likely be higher than a claim for damage to an unfinished basement. This can result in higher premiums for homes with finished basements.‍
The distance between your home and a fire station or hydrant. If your home is close to a fire station or hydrant, there's a better chance of saving more of your property if a fire occurs. In urban areas, this usually isn't a problem and doesn't affect premiums, but if you live in a rural area that's farther away from a fire station or hydrant, your home insurance could be more expensive.
Why did my home insurance premium increase at renewal time?
At renewal time, your insurer will consider the normal factors that might affect your home insurance premium, as well as some other factors — some of which are in your control, and others that are affecting customers across the country. Here are a few factors that may contribute to an increase in your home insurance premium at renewal time:
You've made updates or renovations that have increased the value of your home. If you've recently finished your basement, installed another bathroom, or updated your kitchen cabinets, the value of your home has likely increased, which means you may need to purchase more coverage and pay a higher home insurance premium.
You've recently made a home insurance claim. There are a few reasons why your home insurance premium may have increased after a claim. First, you may have previously qualified for a claims-free discount (meaning you hadn't made a claim for a set period of time specified by your insurer), but if you've recently made a claim, this discount will no longer apply. Second, if you've made several claims in a short period of time, a surcharge may be added to your premium to offset the cost of processing multiple claims.
Extreme weather events are occurring more often across Canada. Wildfires, windstorms, hurricanes, tornadoes, and other severe weather events are on the rise across the country, meaning insurance companies must spend more to help affected customers get back on their feet. As severe weather events become more common, insurance companies have to increase their rates so they can afford to pay the resulting claims.
You live in an area with a high rate of burglary or other incidents. As mentioned in the previous section, insurance companies use your postal code and analytics to identify the history of claims made in your area to determine how likely you are to make a claim. If burglary or flood claims are on the rise in your area, for example, the cost of your insurance may increase.
In addition to these factors, emergency cleanup services, skilled trades, and homes have become more expensive due to inflation, which leads to higher claims payouts. Insurers have to take this into consideration when they calculate premiums.
How can I lower the cost of my home insurance?
If your home insurance premium is higher than you would like it to be, there are ways you can lower the cost without having to opt for a higher deductible.
Making home improvements like switching to an electric or gas furnace, upgrading your plumbing, installing a sump pump, or installing a security system could reduce your home insurance premium. Whichever home improvements you decide to take on, remember to always bring in qualified professionals who can help you choose the right materials and make sure your upgrades meet all required safety standards.
If making major home improvements isn't in your budget, don't worry — you could also save on home insurance if you qualify for a home insurance discount like the mature homeowners' discount, the new home discount, or the mortgage-free discount. Reach out to your licensed home insurance broker at Newman Insurance to find out which discounts could be applied to your policy.
The content in this article is for information purposes only and is not intended to be relied upon as professional or expert advice.
This article was originally posted on 
economical.com