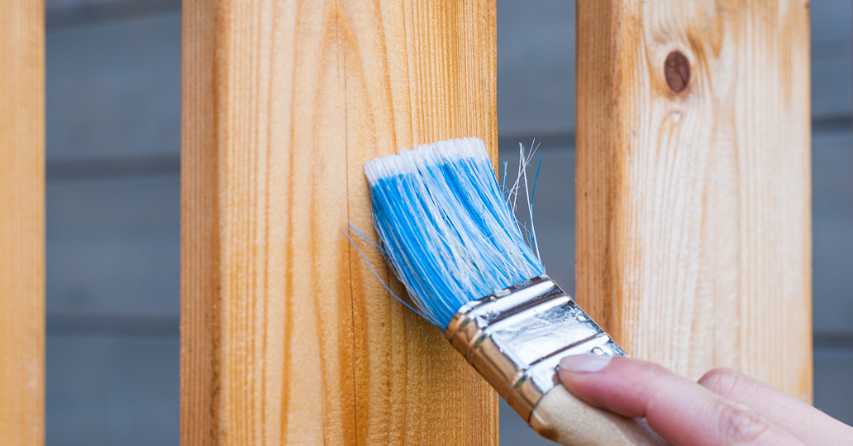 By: Intact Insurance
June 12, 2020
The good thing about home maintenance this time of year is that you actually get to do most of it while enjoying the sun! We put together a checklist to help you get started and avoid unexpected events the season might bring to your home, so that you can focus on what matters most to you.
Outside your home
Clean out and repair gutters and downspouts
Disconnect any downspouts connected directly to the weeping tiles
Install a frost-free hose bib that is intended to prevent pipes from splitting when water freezes in the winter season
Repair driveways, walkways, patio deterioration and seal cracks
Paint or stain exterior trim, fences and decks as needed
Repair damage on the outside of your home, including cracks or storm damage
Find and seal any foundation, crawlspace, or basement crack, seepage or leaks
Wash and repair holes in window and door screens
If you have a masonry chimney, check the joints between the bricks or stones for vegetation growth or mortar deterioration; re-seal if necessary with a water-resistant barrier material available at your local hardware store
Make sure air conditioning units are in good working order—change the filter, check hose connections for leaks, and make sure the drain pans are draining freely
Inside your home
Inspect the attic for signs of roof leaks, mould, or critters
Arrange for an annual flue cleaning for your chimney
Clean out lint from dryer exhaust ducts
Inspect the washing machine and dishwasher hoses and clean the filters
Consider replacing the hot water tank if it's over 10 years old
Change batteries in your smoke and carbon monoxide detectors and test them to be sure they work properly
Check your multi-purpose fire extinguishers to ensure they work and are readily accessible
Inspect sinks, faucets, toilets, showers, tubs and your hot water tank for leaks
Consider replacing old appliance hoses with stainless steel braided hoses
Condo dwellers
Do you know your seasonal maintenance responsibilities? Review your condo ownership documents—not everything is taken care of by the condominium association.
For example, heating and air conditioning (HVAC) unit maintenance usually falls to the condo owner because these mechanicals are not shared and therefore not part of the "common" areas covered by condo fees.
Check the following on your HVAC unit:
Air filters
After months of constant use, your air filter can get clogged with dirt, dust and pet hair. Filters are usually easy to access—they simply pull out. Turn the unit off to check the filter for excessive grime. Depending on the type of filter, you can rinse it off and reuse it, or replace it with a new one. If you don't clean or replace your filter, it can force the HVAC system to work harder to circulate hot or cold air through your house and won't be very effective at cleaning the air.
Furnace inspection
When you shut down a furnace there's more to it than moving the thermostat function from "Heat" to "Off". Every spring you should have the unit professionally inspected for small cracks or damage that might cause problems come fall.
Prepare your air conditioner
Once the furnace is shut down, check your A/C for anything that might block airflow around the outside or on top of the unit and clear it away. Spray the compressor unit down with water to clear out any leaves or small pieces of debris that may have fallen into it over the year. Schedule an HVAC specialist to check the coolant levels and gauge the cooling function before summer heat hits.
Prevent water damage
In most Canadian provinces, water is the leading cause of damage to homes. Water damage is expensive and sometimes difficult to eradicate. The good news is that installing a sump pump or a backwater valve can prevent or limit some types of water damage. Some municipalities even offer subsidies to offset the costs of installing such devices in your home.
Identify problems early to keep them from getting worse and to save money in the long term—it's cheaper to do maintenance now than to replace later on.
Sump pump check-list:
If you already have one, make sure it runs effectively. You might wish to have a back-up sump pump in case the first one fails during heavy rains
Check the float of your sump pit to ensure it's clean and moving freely by slowly pouring water into the sump tank (our short video explains how a sump pump keeps your basement dry)
Check that the battery of your sump pump is in good condition by running the sump pump a second time with the power off
Other things you can do
Check your roof
Have any asphalt shingles shifted, curled, cracked, deteriorated or disappeared? Are any shingles being pushed up by nails? Did you have any ice-dam buildup over the winter? Once your roof's waterproof seal is compromised, excess moisture can lead to structural deterioration and damage to the ceilings, walls and insulation inside. You should inspect your roof twice a year, in the spring and in the fall, regardless of its age.
Check the foundation
Walk around the outside of your house to identify areas of concern and highlight signs
of damage. Seal any cracks you find and check for potential water leakage through basement window wells.
Make sure concrete or stone walkways and patios slope slightly away from the basement walls for proper
drainage. In areas where water pools, add backfill to create a slope away from the foundation. Realign patio or walkway stones to slope away from the house.
Clean and repair gutter systems
Keep gutters free of leaves, dirt and debris. Repair loose joints and
missing sections, and ensure downspout extensions point away from the foundation so the water drains at least 1.8 m (6 ft.) away.
Keep an eye out indoors
Look for telltale signs of water damage inside your house—stained ceilings and
drywall, damp areas in the basement, or cracks in your concrete floors that get wider over time or have signs of discolouration from water seepage. Check for cracked caulking around windows and doors. Sniff out musty, wet odours and look for signs of mould and mildew along wall edges and baseboards.
Monitor local weather conditions.
Check with your local water authority for updates about flooding and water
levels in your area. Watch children and pets to keep them safe around bodies of water that may be unsafe due to high water levels and spring runoff.
When should you reach out to your insurance broker?
When you repair or replace your roof, heating system, plumbing system or electrical system.
When you undertake a major renovation project exceeding $10,000 inside or outside your home.
The content in this article is for information purposes only and is not intended to be relied upon as professional or expert advice.
This article was originally posted on 
intact.ca