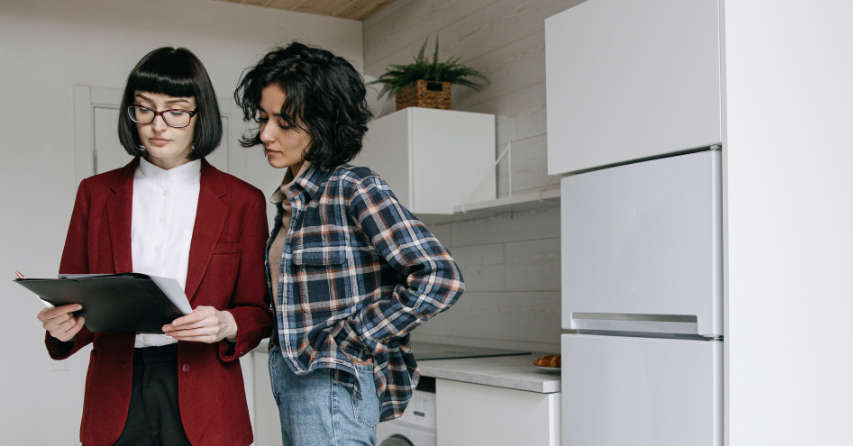 By: Annette Hynes | Economical Insurance
May 12, 2022
When searching for a new apartment, you'll likely ask the property manager a lot of questions about rent costs, building amenities, and the application process. Consider also asking these seven questions to make sure the apartment and the management company are the right fit for you before you sign the lease:
What's the parking situation? If you have a car and you're moving into a busy neighbourhood, on-site parking should be a priority, especially if you live in an area where street parking is prohibited in the winter. When touring an apartment, ask the property manager if parking is available, if it's included in the cost of your rent, and whether it's assigned parking or operates on a first-come, first-served basis. You should also ask how visitor parking works in case you ever have an overnight guest.
How secure is the building? Be sure to ask the property manager for an overview of the building's security features, including if there's a system to allow visitors into the building or security cameras to protect residents if anything goes awry. If you're really concerned about your safety, ask the property manager about how safe the neighbourhood is or find some time to wander around on your own to see if you feel comfortable while out and about.
Is tenant insurance required? A tenant insurance policy protects you and your belongings while you're renting an apartment, and it also provides coverage for things like liability claims, additional living expenses, replacement costs, and identity theft. Some apartment buildings require you to have a tenant insurance policy in place before they hand over the keys — but even if the building doesn't require tenant insurance, it's still in your best interest to get yourself the right coverage before move-in day.
 How are emergency repairs handled? Even if everything in the unit you're touring appears to be well maintained and in good working order, ask the property manager how emergency repairs will be handled. Some management companies will always have maintenance staff available, while others will offer it during specific hours. This is also a good time to ask what types of repairs are covered by the landlord and what the average response time is when you need help.
What's your pest control policy? Encountering unwanted pests like roaches, bedbugs, and rodents is a real possibility when living in an apartment building, and it's your property manager's job to handle pest control. Ask the property manager if they have a reliable pest control company that regularly sprays units and if they'll pay for and set traps for you if you ever find an unwelcome guest in your unit. You should also ask how to report a pest problem should one occur.
Is subletting allowed? During your lease, you may have to be away from your apartment for a while or leave it entirely, and you might consider subletting your space to another person to avoid breaking the lease. If you sublet your apartment without your landlord's consent, they may have the right to pursue legal action, or even eviction, depending on which province you live in. Since no one can predict the future, ask the property manager if subletting is allowed in advance.‍
Is there a penalty for breaking my lease? A year-long lease is a lengthy commitment, and life happens, potentially landing you in a situation where you have to break your lease before it's over. It's important to understand the penalties for early termination ahead of time so you're not hit with surprise costs. Ask your landlord about any potential penalties and review the lease document carefully before you sign it.
Once you've secured your new living space, reach out to a licensed insurance broker at Whitley Newman Insurance to get set up with a tenant insurance policy before you move in.
The content in this article is for information purposes only and is not intended to be relied upon as professional or expert advice.
This article was originally posted on 
economical.com